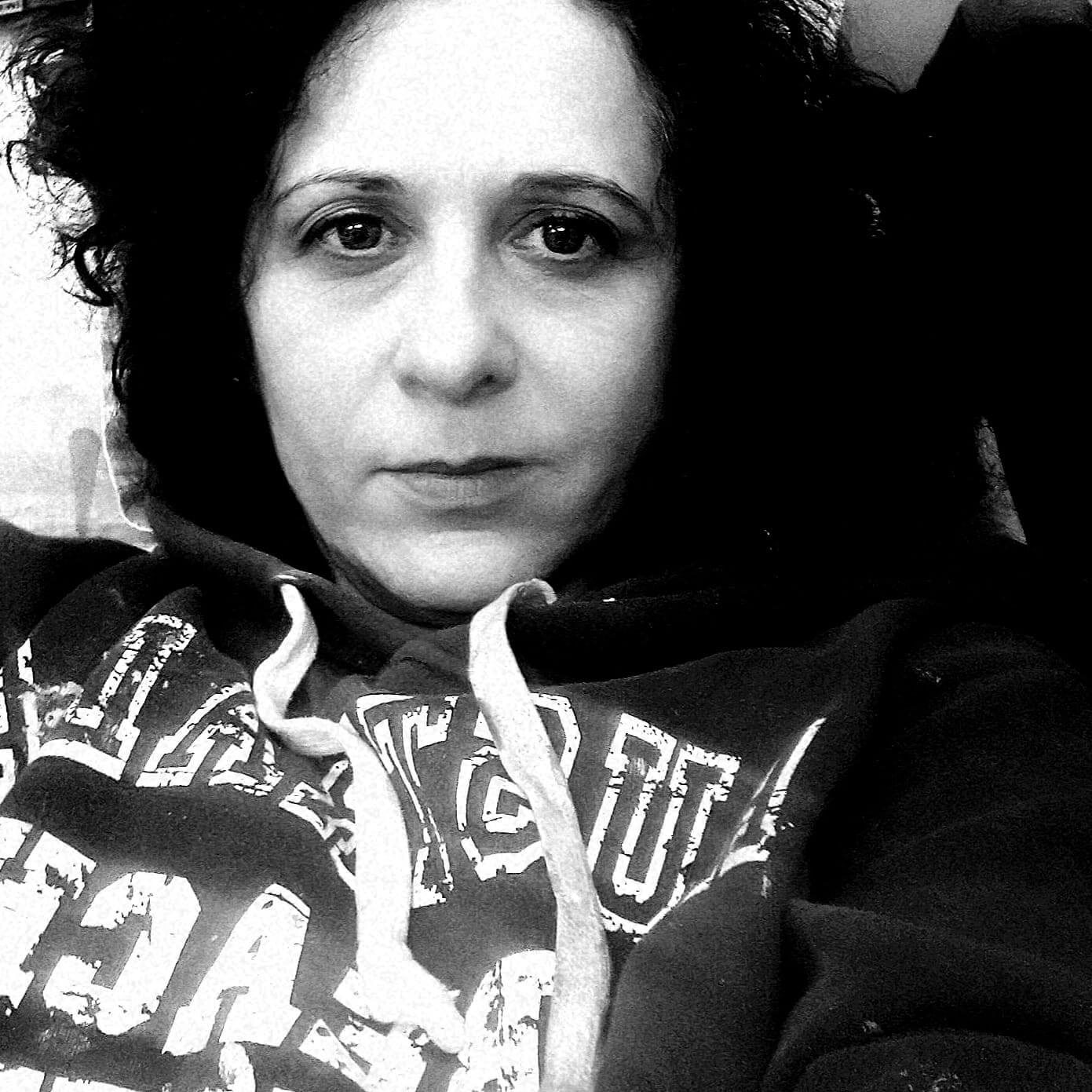 Catherine Bourdon, born in 1967 in Paris came after her diploma at the Paris ENSBA art school to Berlin, where she lives and works since then.
The subject is the occasion for the color. The material, the matter and the figure wrestle with each other for precedence and intermingle. Catherine Bourdon's subjects are not narrative constructions. She contrasts garish colors and glitter, porcelain shards, color masses of pigments and specially made binder, smeared, dripped, thick, thin, glossy or matte applied. The spontaneous gesture of the action painter stands on equal footing with a mannerist painted figure and the sprayer stencil. In general, Catherine Bourdon draws on striking stylistic elements or procedures from art history. This inexhaustible field of art is like a large playground for her, in which she can let off steam and constantly explore new aspects again and again. Bourdon's work process is comparable to research, in which she explores boundaries without leaving the world of art. Despite the visible traces of this working process, the works stand exposed at the end – delicate, almost fragile or naive.
Meisterschülerin der Ecole Nationale des Beaux-Arts de Paris und der Faculté St. Charles, Sorbonne (Paris). Im Rahmen eines Postgraduierten-Stipendiums kam Catherine Bourdon 1995 nach Berlin, wo sie als Freischaffende Künstlerin arbeitet.
Ausbildung
1994 Postgraduierten-Stipendium Office Franco-Allemand Pour La Jeunesse, Aufenthalt an Hochschule der Künste, Berlin
1990 Stipendium Universidad de los Bellos Artes, Barcelona, Spanien
Diplome
1988 – 1993 Diplôme Supérieur d'Arts Plastiques, ENSBA, Ecole Nationale des Beaux –Arts de Paris
1987 – 1992 Licence Arts Plastique et Communication, Faculté St. Charles, Sorbonne, Paris
Einzelausstellung
2020 Schöne Aussichten, Villa Blunk, 16269 Wriezen
2019 Berlin-Paris, Galerie Maitre Albert, Paris (mit Frauke Bohge)
2018 Leben leben, Berliner Zimmer, Berlin
2017 Ulterior motives, Galerie Kunstprojekte, Mannheim
2016 Zoom-ein Schwenk durch die Farbe, Max-Planck Institut Berlin (mit Frauke Bohge)
2013 "Colors" "Aedium" Berlin
Exhibitions (solo)
2020 Schöne Aussichten, Villa Blunk, Wriezen, Germany
2019 Berlin-Paris, Galerie Maitre Albert, Paris, France
2018 Leben leben, Berliner Zimmer, Berlin, Germany
2017 Ulterior Motives, Galerie Kunstprojekte, Mannheim, Germany
2016 Zoom – ein Schwenk durch die Farbe, Max-Planck Institut Berlin, Germany
Exhibitions
2020 Sowohl als auch, K-Salon, Berlin, Germany
2020 Wie Leben? Galerie Verein Berliner Künstler VBK, Berlin, Germany
2020 Vanity, Galerie Verein Berliner Künstler VBK, Berlin, Germany
2020 Art Innsbruck – International Contemporary Art Fair, Innsbruck, Austria
2019 Always in Motion, Galerie Verein Berliner Künstler VBK, Berlin, Germany
2019 Stiftung Starke, Löwenpalais, Berlin, Germany
2019 Das kleine Format Kunstprojekte, Mannheim, Germany
2019 Techne, Rathaus Porto Allegre, Porto Allergie, Brazil
2019 Painting Plus, Galerie Verein Berliner Künstler VBK, Berlin, Germany
2018 Contemporary Art Ruhr – International Contemporary Art Fair Zollverein, Essen, Germany
2018 Transformart, Rathenauhallen Oberschöneweide, Berlin, Germany
2018 Soweit das Auge reicht, Galerie Verein Berliner Künstler VBK, Berlin, Germany
2018 Zeitverschiebung, Bauakademie Prag, Czech Republic
2018 Totalitär, Galerie Verein Berliner Künstler VBK, Berlin,Germany
2017 Wildwuchs, Kunst Remise, Berlin, Germany
2017 Contemporary Art Ruhr, Kunstmesse Zollverein, Essen, Germany